There are several ways to stay updated on our events.
Become a member of our Facebookgroup to receive updates about next events of Fusion Dance Night through Facebook.
Or you can check out our website regularly, and sign up to our mailinglist to automatically receive new events in your email.
Questions? Contact us via FusionDanceNight@gmail.com
Mailinglist
Sign up to receive email notifications about our events. We won't spam you, just the necessities.
About us
Two dancers who want to share their passion for Fusion Dancing: Adrian and Marijn.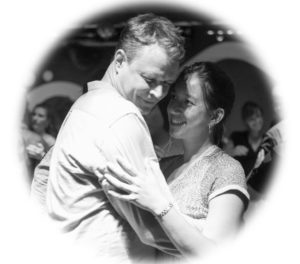 Marijn started with Ballroom and Latin dancing over twenty years ago. Over the years she has added Argentine Tango, Lindyhop, Blues and West Coast Swing to her dance vocabulary. She considers Fusion dancing as a universal language based on improvised leading and following.
Adrian started with Argentine Tango dancing over twenty years ago. Over the years he has added Modern dance, Zouk, West Coast Swing and Blues to his dance vocabulary. He likes the challenge of combining elements from these different dances into each other.
Together they love to explore the freedom of Fusion dancing.