Summer Fusion – August edition
18 August 2019, 15:00

-

18:00
Event Navigation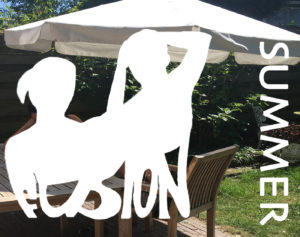 Do you love partner-dancing, improvising to the music, thinking outside the box? Then Fusion is your dance!
Fusion dancing is a lead&follow based partner dance, drawing from dance styles like Blues, Tango, West Coast Swing, Kizomba, Zouk, and so many more.
Summer fusion
For the summer months we have an outdoor concept: we'll provide a little dance floor in our garden. Entrance is free, including music, dancing, coffee, and tea. If you'd like something else, please bring it (and share it).
Ofcourse we do rely on good weather, so do your sundance well in advance otherwise we might have to cancel the event.
Practica (15:00-15:30), by everyone and for everyone, ask questions, share skills, let's learn together.
Social dance (15:30-18:00), by everyone and for everyone, lead, follow, dj, let's have fun!
Venue
Our garden in Arnhem (Paasberg). Sign up for the mailinglist or email us for the exact address.
Nearest busstop 'Vondellaan' (200m) is serviced by lines 1 and 29 from Arnhem central station. Trainstation Arnhem Presikhaaf is within walking distance (1km).
There is ample free parking in the street.
Want more?
Fusion Dance Nights is a bi-monthly event, though summer fusion might have last-minute extra editions!
Join the mailinglist (see sidebar) or our facebookgroup Fusion Dance Nights to get notified of our future events:
https://www.facebook.com/groups/1045360208929973/
What is Fusion Dance?
Fusion dance is a type of contemporary American partner dance that combines different dance styles to create a new aesthetic. It is typically an improvised, lead-follow approach to dancing that does not conform to any particular defined dance styles. Fusion dancing may involve creating a new dance style, combining existing styles, or both.
Fusion dance may employ any dance technique, or arbitrary combination of techniques, associated with any type of dance. It usually incorporates dance partnering techniques such as connection, extension-compression, and frame, and may also utilize other techniques such as ballet technique, contact improvisation, and popping.
Fusion dancing emphasizes musicality. The music style may influence a fusion dancer's choice of dance style. For example, a dancer might employ popping in response to hip hop music. [source: wikipedia]