Workshop Fusion – A not so short introduction
7 October 2017, 14:00

-

19:00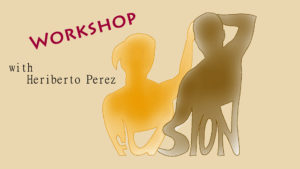 We'll have the amazing Heriberto Perez coming over from Cleveland (Ohio) to teach us a whole afternoon the ins and outs of Fusion Dancing.
Marijn: "I've have met Heriberto at the Las Vegas Fusion Exchange and Seattle Fusion Festival where I got to know him as an amazing dancer, but most of all a very patient teacher. He has a talent for breaking down difficult concepts in dancing into easily understandable bits and pieces."
Heriberto Perez (Eddie for short) is a professional dancer and currently is a principal instructor and co-owner of Viva Dance Studio in Cleveland. He specializes in competitive and social dancing with a focus on lead & follow technique, teaching dances like Argentine Tango, Salsa, Mambo On2, Cha-Cha Boogaloo, Latin Body Movement, Blues & more.
http://www.vivadancestudio.com/staff/heriberto-perez/


Class Descriptions
Class 1 – 4 points of connection
This class will be focused on having a better understanding of 4 crucial points/connection areas that all dancers should be aware of when partner dancing or solo dancing.
Class 2 – Sensing, feeling and reacting
This class is a must do for all dancers, it explores and shows the dancer different styles of connection and exercises that try them.
Class 3 – Musicality & Rhythms
This musicality and rhythms class will make you think outside the box. We'll explore boogaloo and blues fusion to learn about syncopation, grooves and funk.
Class 4 – Understanding Spinning in a partnership
Understanding your part in a spin and how to spin lead or follow safely.